[ Chinese wardrobe network ] There are many friends who have had the feeling that no matter the wardrobe of the home, the space of the wardrobe is not enough, but the space for placing the wardrobe at home is limited, and the second wardrobe cannot be bought. Especially in a small space, then in this small space, how can the wardrobe be used to its fullest effect?

Wardrobe door mirror
The closet can be used in a similar color to the wall to become an integral part of the wall, or to use the mirror as a countertop to visually narrow the space.
Wardrobe height is flush with the ceiling
Many wardrobes are not tall, resulting in a large amount of space on the top and ceiling of the closet, which is wasted and easy to accumulate dust. Small rooms are not as good as the wardrobes that go directly to the ceiling, and the top area is also fully utilized.
Let the wardrobe enter the wall
In recent years, the wardrobe began to "drill" into the wall from the outside of the wall, which greatly released the space and increased the practical area. It is recommended that the square dressing room be designed as a U-shaped cabinet that fits completely into the wall. The deep-shaped room, the wardrobe is arranged in parallel, and the dressing space of about 1 square meter can be reserved. The wide and long room is not very plentiful, and the L-shaped cabinet is designed to have the widest visual and storage.
Does the wardrobe really play its biggest role? Is there still a lot of space left unused? Using resources, the wardrobe can also win unlimited space.
Retractable wardrobes also greatly enhance the adaptability and variability of the wardrobe
When the retractable wardrobe is adjusted, there is no need to cut any stainless steel tubes. If you are careful, you will find that there is no wooden board at the bottom of the wardrobe and it is connected by a clothes rail. The original clothes rail can adjust the space interval in the closet according to the actual length, and the adjustment of the wardrobe will not affect the overall appearance of the wardrobe.
Space-saving sliding door
A wardrobe with sliding doors is the most space-saving, and it does not block the passage because the door panels open. At the time of purchase, people tend to focus only on the style and color of the sliding door, while ignoring the guide rails. Good rails are designed with two anti-jumping devices to ensure that the doors do not bounce back when they slide. There is only one anti-jump device or a pulley without an anti-jump device, and the door is easily derailed when in use.
This is a good machine for making twisted paper ropes in roll, you can use the twisted ropes to wrap the gifts or for craft products, Paper Handle after knotted or tipped at the two ends or you can use it on the paper handle making to make different paper handles. It is running stably and fast and the rope diameters can be different and adjustable and customized according to customers` request. The rope can be made in different ways by using one paper roll, 2 rolls or more, which depends on the rope tightness, strongness, roundness and colors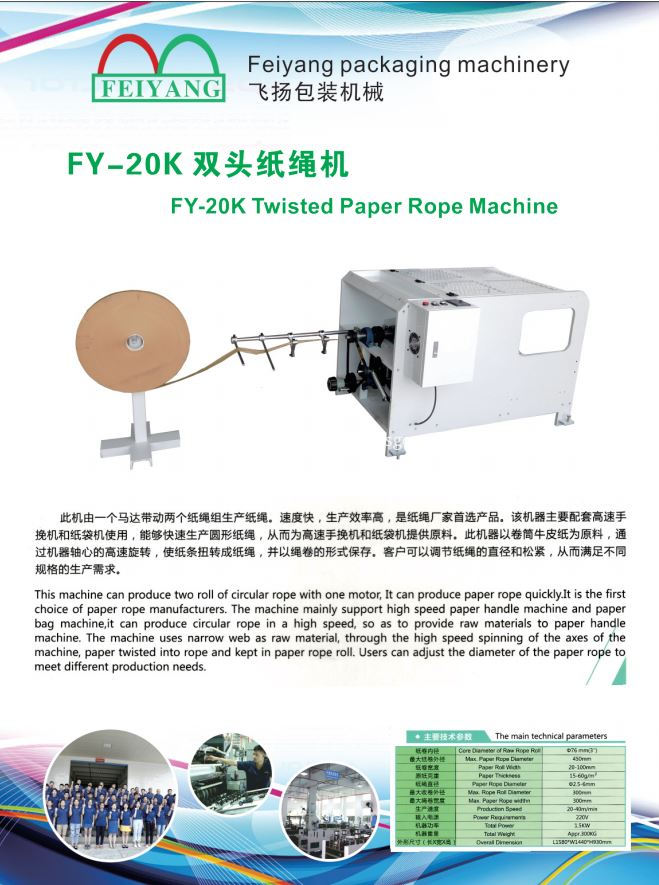 Single Head Paper Rope Making Machine
Paper Rope, Paper Cord, Paper Rope Making Machine, Paper Cord Making Machine, Paper Rope Machine, Paper Cord Machine
DongGuan FeiYang Packaging Machinery Equipment Co., Ltd , https://www.feiyang-machinery.com