With the development of production equipment and raw materials, plastic packaging has been widely applied to various fields. In recent years, compared with glass bottles, this type of packaging has the characteristics of light weight, non-breakable, easy to manufacture and disinfect, easy to seal and low cost. It has been widely concerned by pharmaceutical companies and has developed rapidly.

Plastic bottles of raw materials
Medical plastic bottle raw materials must meet the requirements of medical and health, common plastic varieties are: polyethylene (PE), polypropylene (PP), polystyrene (PS), polyester (PET) and so on.
Polyethylene (PE) is corrosion resistant and can be chlorinated. Polyethylene is classified into high density (HDPE), low density (LDPE) and linear low density (LLDPE). HDPE has high melting point, hardness and strength, low water absorption, good processability and radiation resistance, and is often used in the production of plastic bottles for tablets; LDPE has good flexibility, elongation and impact strength, and can be used for Eyedrops in plastic bottles; LLDPE high impact strength, fatigue resistance, wear resistance, less used in pharmaceutical packaging.
Polypropylene (PP) has a low density, and its strength, hardness, and heat resistance are superior to those of high density polyethylene. However, it is brittle at low temperatures, does not wear, and is susceptible to aging. However, the corresponding additives can be added for modification, and the HDPE performance level can be achieved after modification.
Polystyrene (PS) is colorless and transparent, and its transmittance is second only to plexiglass. It has good colorability, water resistance, chemical stability, and strength. However, the PS is brittle, it is easy to produce stress embrittlement, and it is not resistant to organic solvents such as benzene and gasoline, so it is rarely used in pharmaceutical packaging. However, after modification, the impact resistance of the material can be greatly improved.
PET as a medicine packaging container has many advantages. First of all, PET bottles are light and strong, and their strength and elasticity are significantly higher than those of plastic bottles made of other plastic materials. The commonly used plastics have good performance in blocking moisture and oxygen. PET bottles have good chemical resistance properties and can be used. The packaging of all articles except strong alkali and some organic solvents is suitable for making thinner, lighter, and stronger pharmaceutical packaging bottles. Therefore, PET bottles have a tendency to replace conventional glass bottles.
Medical plastic bottle processing method and equipment selection
At present, the hollow plastic bottles are processed by extrusion blow molding and injection blow molding.
According to the processing method of the medical bottle, different machines can be selected: for example, extrusion blower, injection blow one-step molding machine, injection stretch blow molding machine, and injection molding machine and blowing machine for two-step process. According to the characteristics of various machines, for common PP, PE medical bottles and PET bottles with capacity less than 350ml, one-step injection blow molding machine can be used; for larger-capacity medical bottles, extrusion blow molding machine can be used; for large PET bottles can only be injection stretch blow molding machines.
The main features of UNILOY MILACRON's recommended IBS series injection-blow one-step molding machine and B&W series extrusion blow molding machine are:
IBS Injection Blow Molding Machine
(1) Full-closed-loop control (2) Finished container size: 2ml to 2l
(3) The precision and uniformity of finished products of the bottleneck are high. (4) The hydraulic part of the mold area is located at the bottom of the equipment, which is used for the production of clean oil-free molds and containers without pollution (5) Particularly suitable for the production of GMP workshops. Requirement (6) No more material needed
B&W series extrusion blow molding machine
(1) Full-closed-loop control (2) Finished container size: 10ml to 60mlL (5 gallon pc bottles included)
(3) Up to 24 cavity, 12 heads, co-extruded layer (2 to 7 layers)
(4) High-precision wall thickness control system can achieve the effect of reducing product weight and increasing product strength. (5) After several million cycles, lower cpk value can be achieved. (6) High-performance in-mold labeling
Applications: Milk, chemicals, fruit juices, pharmaceuticals, materials, and other major customers: p&g, Colgate, Johnson & Johnson, Amway, Unilever, Mobil, Youth, Squibb, etc.
Silicone Leak Proof Shampoo Travel Bottle
Made of food grade silicone material, with FDA BPA Free LFGB certificates. There are different Volume 37ml 60ml and 89ml, the silicone travel liquid bottles are easy to squeeze, Leak-proof and air valve control the flow. This travel jar with Wide-mouth, easy to refill more convinient, and three layers for sealing up make safe handing. TSA approve, that is a perfect choice for travel. pls contact us for more information.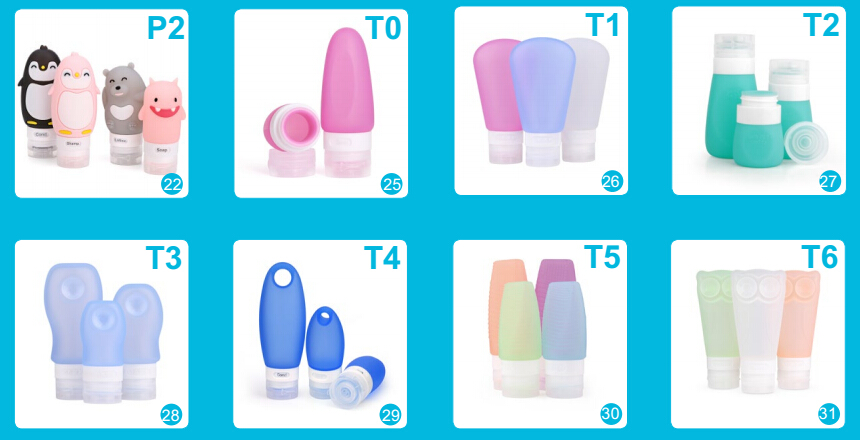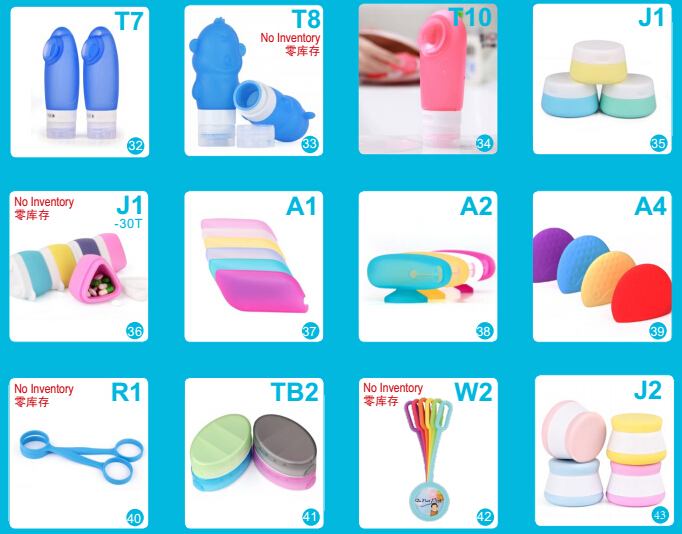 For more: Silicone Travel Bottles, Silicone Travel Tubes, Silicone Travel Bottle Set, Silicone trave jars
Silicone Travel Bottles
Silicone Travel Bottles,Custom Travel Bottle Set,Silicone Travel Tubes,Tsa Travel Bottles
Shenzhen Kean Silicone Product Co., Ltd. , http://www.keansilicon.com